口語會話 Follow me

You're too much. 你太誇張了。

A: Look, John. You've got to calm down. You're too much.
B: Lighten up, man. I'm just having fun.

A: 約翰,聽著,你得冷靜下來,你太誇張了。
B: 兄弟,拜託,我只是在找樂子而已。

<< 節錄

《OMG! 超好用生活英語萬用句》

>>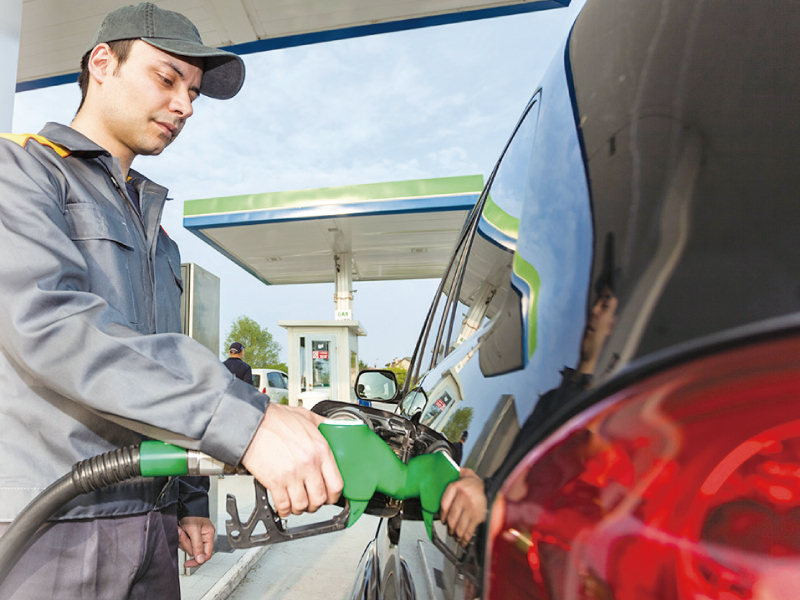 [Fill it up with premium, please.]
Randy: Fill it up with premium, please.
Attendant: This car runs on regular. Why are you buying premium?
Randy: I usually get regular, but the car hasn't been running very well lately. I figure I should try premium. What do you think?
Attendant: I think you should stick with regular. This car doesn't need premium. It's been running badly because you haven't had a tune-up in a long time.
Randy: Okay. Regular, then. Could you check the oil too, please?
Attendant: Yes, we'll do that for you.
[Is there a car charging station near here?]
Craig: We'll have to charge the car in an hour or so.
Ashley: Okay. Is there a car charging station near here?
Craig: I think there's one a few miles away.
Ashley: It's annoying that we have to stop for half an hour. I don't want to be late for my parents' party.
Craig: Well, we really don't have a choice, Ashley.
Ashley: No, we don't. I guess it's better to be late than not to get there at all!
---
[請加滿高級汽油。]
蘭迪: 請加滿高級汽油。
服務員:這車用的是普通汽油。為什麼你現在要加高級汽油呢?
蘭迪:我通常是加普通汽油,但這輛車最近跑得不太順。我覺得該試用一下高級汽油。你覺得呢?
服務員:我認為你應該繼續用普通汽油。這台車並不需要用高級汽油,開不順是因為你太久沒有維修調整了。
蘭迪:好吧,就用普通汽油。請順便檢查一下機油,好嗎?
服務員:好的,我們會檢查的。
[這附近有汽車充電站嗎?]
克雷格:下個鐘頭該給車子充電了。
艾旭莉:好!這附近有汽車充電站嗎?
克雷格:前面幾英里處就有一間了。
艾旭莉:很討厭我們還要等半小時,爸媽的派對我可不想遲到。
克雷格:艾旭莉,我們沒什麼選擇。
艾旭莉:是啊,我想遲到總比沒到的好!
<< 選自

彩圖實境生活英語 Just Say It

>>
決勝新制多益:聽力6回模擬試題+完全剖析

本書專為新制多益準考生量身打造擬真題型,可作為考前短期衝刺助力,或平時厚植實力的自學工具。..詳全文

FUN學美國各學科初級課本:新生入門英語閱讀 1【二版】

英文寫作高分班Just Write It! 【彩色二版】

觀光英語Let's Go!【三版】

‧常見警訊 注意荷爾蒙已失衡
性荷爾蒙失衡問題,不只更年期,年輕女性也不可忽視。女性朋友們若出現以下症狀,即可能是性荷爾蒙失衡了,應正視問題並及早因應做改善。

‧軍職人員投保 三點教戰
《陸海空軍軍官士官服役條例》修正實施,不少人刷存摺時發現減幅超過預期。專家指出,軍職人員役期短、退除早、離退率高,可依三種服役年資,趁早規劃個人風險保障。
寂天文化事業股份有限公司 版權所有 地址:106 台北市新生南路三段88號7樓之3
客服專線: (02) 2365-9739#17 ( 週一至週五 9:00 am ~ 6:00 pm 不含例假日 )
傳真專線: (02) 2365-9835 客服信箱:onlineservice@icosmos.com.tw