口語會話 Follow me

You're too much. 你太誇張了。

A: Look, John. You've got to calm down. You're too much.
B: Lighten up, man. I'm just having fun.

A: 約翰,聽著,你得冷靜下來,你太誇張了。
B: 兄弟,拜託,我只是在找樂子而已。

<< 節錄

《OMG! 超好用生活英語萬用句》

>>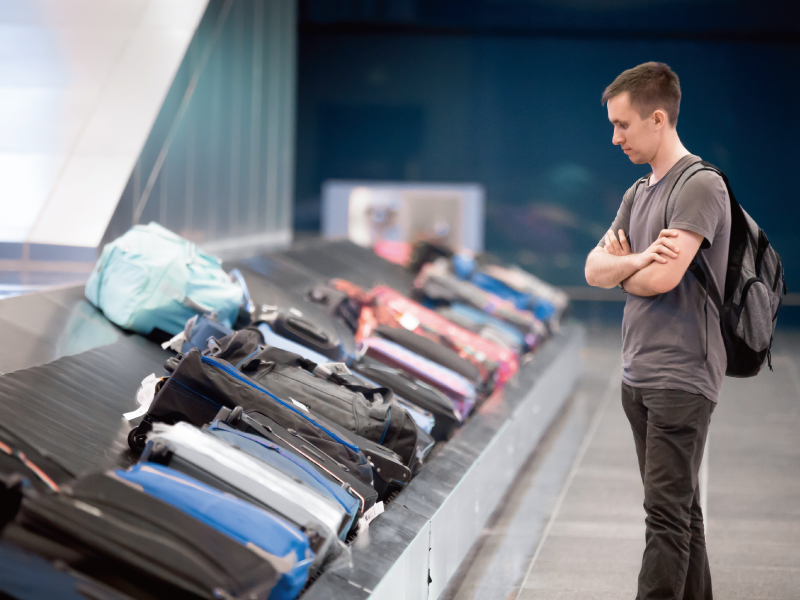 [at a baggage services desk]
Traveler: I waited over an hour, but my luggage never arrived at the baggage carousel.
Baggage Agent: We'll get right on that. Can I see your baggage claim ticket, please?
Traveler: What's that?
Baggage Agent: It's the little ticket they gave you when you first checked in. It lets us know which bag is yours.
[a moment later]
Traveler: Ah, here it is.
Baggage Agent: Oh dear. According to our system, your luggage has been misplaced.
Traveler: But that's all my stuff! What am I going to do? I don't even have a change of clothes.
Baggage Agent: Don't worry. We'll take care of you. First, please fill out this form telling us what was in your luggage and where to send it when we locate it.
Traveler: How long will that take?
Baggage Agent: You should have your bags within five days.
Traveler: And what if you can't find them?
Baggage Agent: Then the airline will reimburse you for the value of your lost belongings.
---
〔在行李服務處〕
旅客:我等了一個多小時,但我的行李並未出現在行李轉盤上。
行李處人員:我們馬上處理。我可以看您的行李提領券嗎?謝謝。
旅客:那是什麼?
行李處人員:那是您一開始報到時,他們給您的一小張票券。讓我們知道,哪件行李是您的。 〔過了一陣子〕
旅客:啊,在這裡。
行李處人員:天啊,根據我們的系統顯示,您的行李送錯地方了。
旅客:但是,我所有的東西都在裡面!我現在該怎麼辦?我連換洗衣物都沒有。
行李處人員:別擔心,我們會幫你。首先,請填寫這份表格。它會告訴我們,您的行李裡有什麼,還有,等我們找到時要送去哪裡。
旅客:要多久?
行李處人員:您應該會在五天內收到您的行李。
旅客:萬一,你們找不到呢?
行李處人員:那麼,航空公司會賠償您損失的財物。
<< 選自

專業觀光餐旅英語會話:打造金獎服務

>>
歐亨利短篇小說選 The Best Short Stories of O. Henry 【原著雙語彩圖本】

本書自歐亨利的三百多篇短篇佳作之中,精選最膾炙人口的15篇,包含〈聖誕禮物〉、〈最後一片藤葉〉、〈警察與讚美詩〉及〈命運之路〉等,帶您一窺其獨樹一格、幽默深刻的小說世界。..詳全文

彩圖實境生活英語 Just Say It

英文寫作教戰手冊:基礎篇

FUN學美國各學科初級課本:新生入門英語閱讀 4 【二版】

‧吃過聽過漢堡 但你知道它怎麼來的嗎?
很少有東西比漢堡更有美國味的了。然而,漢堡的歷史可是比美國的歷史更悠久!
十三世紀時,蒙古人散布到亞洲各地。在這段時間,蒙古戰士會把切碎的肉放在馬鞍下好讓肉質變得更軟嫩且更容易食用。

‧5個《瘋狂亞洲富豪》拍攝點!打麻將、單身趴都在這
電影《瘋狂亞洲富豪》自從上映後討論話題不斷,除了劇中演員楊紫瓊是馬來西亞人,劇中也有多幕場景是於馬來西亞實地拍攝,粉絲們可以跟著電影情節,安排一趟「瘋狂」之旅。
寂天文化事業股份有限公司 版權所有 地址:106 台北市新生南路三段88號7樓之3
客服專線: (02) 2365-9739#17 ( 週一至週五 9:00 am ~ 6:00 pm 不含例假日 )
傳真專線: (02) 2365-9835 客服信箱:onlineservice@icosmos.com.tw