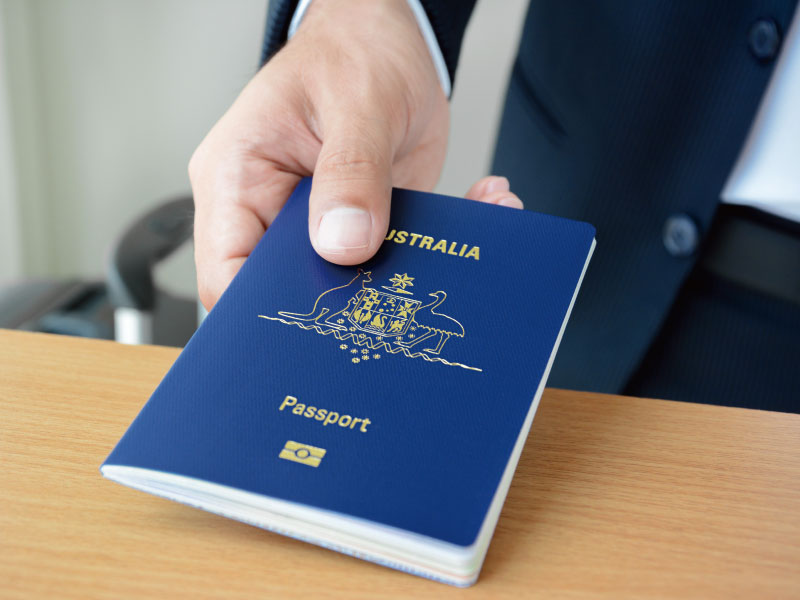 [at an immigration counter]
Border Agent: Welcome to the United States. Please show me your passport and your landing card.
Traveler: Landing card? What's that?
Border Agent: It's a small form with information about your trip. Usually it's handed out during the flight. Here's a pen and a landing card. Please fill it out.
Traveler: Thanks! [a moment later] OK, I'm done. Here you go.
Border Agent: Great. Now what's your reason for visiting the United States?
Traveler:I'm here to visit family.
Border Agent: How long will you be staying for?
Traveler: Two weeks.
Border Agent: Where will you be staying?
Traveler: My cousin's house in Chicago. The address is on my landing card.
Border Agent: Have you ever studied or worked in the United States before?
Traveler: No. This is my first time here.
Border Agent: Are you currently employed?
Traveler:Yes. I work as a teacher.
Border Agent: Wonderful. Here's your passport. Please proceed to the baggage carousel to pick up your luggage. After that, you will need to go through customs.
---
〔在移民入境櫃台〕
邊境人員:歡迎來到美國。請出示你的護照和入境卡。
旅客:入境卡?那是什麼?
邊境人員:那是張關於你旅程的小表格。通常是在飛行途中發送。這是筆和入境卡,請填寫。
旅客:謝謝!〔過了一會〕好,我填完了。來,給你。
邊境人員:很好。你來美國的目的是什麼?
旅客:我來看我的家人。
邊境人員:你要停留多久?
旅客:兩星期。
邊境人員:你會住在哪裡?
旅客:我表哥在芝加哥的家,地址寫在入境卡上。
邊境人員:你以前曾在美國讀書或工作過嗎?
旅客:沒有,這是我第一次來美國。
邊境人員:你目前有工作嗎?
旅客:有,我是老師。
邊境人員:很好。這是你的護照。請前往行李提領區,領取你的行李。之後,你需要通過海關。
<< 選自

專業觀光餐旅英語會話:打造金獎服務

>>
用英語遊Taipei:15經典台北旅遊景點

全書精選15個台北非去不可的經典景點,用淺顯易懂的英文寫成,深入淺出的景點介紹,向外國朋友用英語介紹台北,看這本就對了!..詳全文

FUN學美國各學科初級課本:新生入門英語閱讀 2 【二版】

觀光英語Let's Go!【三版】

彩圖實境旅遊英語【二版】

‧當我們談到齊佛時,我們在談什麼?
二十世紀證實是美國短篇小說的世紀。前有詹姆斯,歐亨利,安德森,中有費茲傑羅,海明威,福克納,韋爾蒂,後有歐康納,卡佛,比蒂。但清點起來,歷來為台灣讀者熟悉的美國作家清單上,獨不見齊佛這咖,這可算得上是個不大不小的遺憾吧。

‧川普執政下的美國KKK政治
川普經常被質疑對三K黨的種族歧視行為過於寬容、少於譴責。我們無法確認川普的種族主義思想是否已達到KKK的層次,但他執政以來的表現,倒是蠻符合另一種形式的KKK政治。
寂天文化事業股份有限公司 版權所有 地址:106 台北市新生南路三段88號7樓之3
客服專線: (02) 2365-9739#17 ( 週一至週五 9:00 am ~ 6:00 pm 不含例假日 )
傳真專線: (02) 2365-9835 客服信箱:onlineservice@icosmos.com.tw